Training Academy
---
Investment Project Preparation and Appraisal Curriculum
An online training to improve the quality of investment projects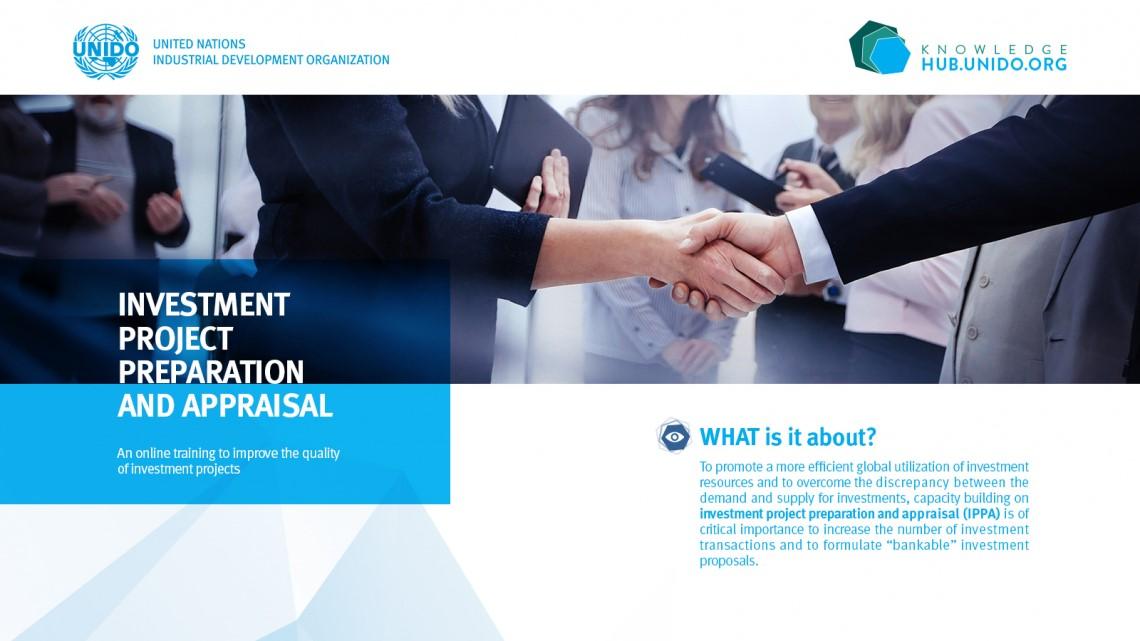 Investment Project Preparation and Appraisal Curriculum
To promote a more efficient global utilization of investment resources and to overcome the discrepancy between the demand and supply for investments, capacity building on investment project preparation and appraisal (IPPA) is of critical importance to increase the number of investment transactions and to formulate "bankable" investment proposals.
To enhance industrial capacity for advancing economic competitiveness, the course aims to develop and strengthen indigenous capacities of developing countries. This comprises investment promotion institutions, financial institutions, project developers as well as SMEs. In this course, participants will be equipped with skills for identification of investment projects, market analysis and marketing strategy designing, impact entrepreneurship, technical and environmental analysis, financial planning and analysis, including the introduction to financial statements and indicators, as well as investment project implementation and appraisal.
The online curriculum is comprised of four courses, which are further subdivided into fourteen (14) modules with knowledge tests for participants to demonstrate solid understanding of the knowledge presented in each module. Additional readings are also provided for further reading by participants.

The Training course is structured as follows:
Course 1: Introduction to Investment Projects and Market Analysis comprised of five modules (Investment Project Development, Investment Opportunity Identification, Introduction to Market Analysis and Marketing, Marketing Strategy and Impact Entrepreneurship)
Course 2: Technical Analysis comprised of three modules (Technical Analysis – Design and Planning, Technical Analysis – Implementation and Environment Analysis)
Course 3: Financial Planning and Analysis comprised of four modules (The Need for Capital and Sources of Financing, Introduction to Financial Statements, Financial Statements and Ratio Analysis, and Financial Analysis - Dynamic Indicators)
Course 4: Risk Analysis, Project Implementation Planning and Appraisal comprised of two modules (Risk Analysis - Dealing with Uncertainty in Project Appraisal and Project Implementation Planning and Appraisal)

Upon successful completion of Course 1, participants will receive a certificate and upon successful completion of Courses 1-4, participants will receive another certificate.
The course is free-of-charge. Please log in using your account on Knowledge Hub.
The course flyers are available here.