Training Academy
---
Good Governance in Quality Infrastructure
This training aims to assist Quality Infrastructure practitioners build a Good Governance system within their organizations and to guide their work with samples of useful tools.


Governments create the conditions for the functioning of markets, the operation of private firms, the strengthening of civil society and the welfare of communities and individuals, including during times of crisis such as the COVID-19 pandemic. Governance shapes the decision-making process of these conditions as well as the process by which these decisions are implemented. The trade context of all of this is what is referred to as the Quality Infrastructure of a country.
You may wonder how Good Governance is especially important for you. For example, you may work in a product testing lab, in a national standards body that develops product standards, or at the inspection directorate, or you may be a Quality Infrastructure professional. You may be in a lab testing a product. The test result shows the product fails to meet standards, but you get a call to change the test results, adjust the numbers, or to disclose the test information. Principles of integrity and confidentiality apply. Or maybe you are chairing a committee to draft a standard or a regulation. Who should you invite? Will you exclude some manufacturers for the sake of others? Will you accept gifts? Openness, impartiality, transparency, consensus and effectiveness come into the picture.
Good Governance is perhaps the single most important factor in eradicating poverty and promoting development. Establishing and governing a Quality Infrastructure can substantially assist a nation in pursuing a development path aligned with the Sustainable Development Goals (SDGs), overcoming the challenges involved and benefitting from the considerable opportunities generated through achievement of the SDGs. More specifically, Good Governance of Quality Infrastructure contributes to improvements in three of the five dimensions addressed by the SDGs: prosperity, people and planet. Acting ethically contributes to sustainable business success that makes for a better world all around.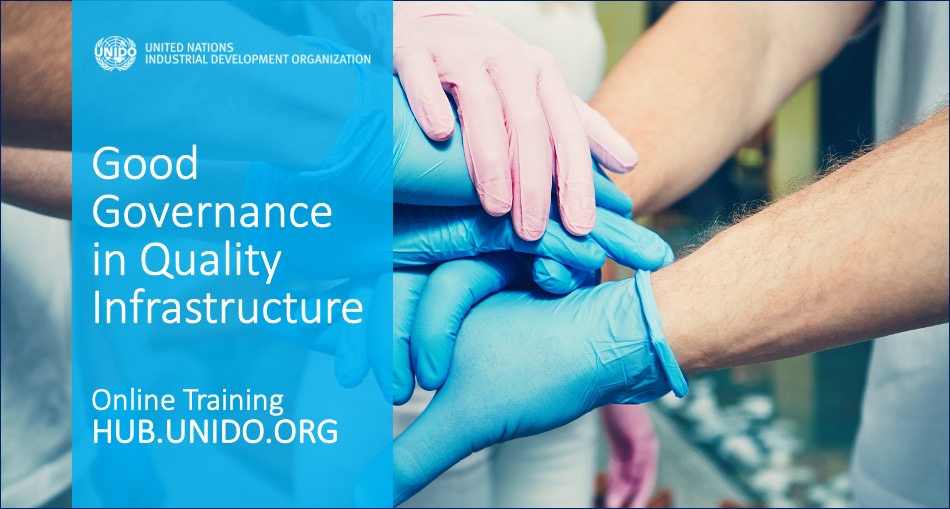 The e-Learning Training Programme
The Good Governance training programme consists of seven modules designed to support Quality Infrastructure organizations in building their governance systems and guide their daily work.
It explains the principles of Good Governance, identifies stakeholders and stakeholder strategy, and builds awareness of the impact of Industry 4.0 technologies on Quality Infrastructure organizations. Further, it provides samples of tools that organizations can introduce into their governance systems.
The seven training modules provide clear theoretical and practical guidance for the full range of Good Governance activities.
MODULE 1: GOOD GOVERNANCE FOR QI IN THE CONTEXT OF QUALITY POLICY & SUSTAINABILITY STRATEGY
The purpose of this module is to build awareness of the concept of Good Governance of the Quality Infrastructure (QI) in the context of a Quality Policy and a sustainability strategy.
MODULE 2: GOOD GOVERNANCE APPROACHES, TOOLS, TECHNIQUES & TECHNOLOGIES
The purpose of this module is to build awareness of the approaches, tools, techniques, and technologies for implementing a Good Governance system and principles.
MODULE 3: STAKEHOLDER IDENTIFICATION, COMMUNICATION & ENGAGEMENT
This module builds awareness of the various stakeholders within the context of Good Governance.
MODULE 4: GOOD GOVERNANCE MODELS & GOVERNANCE WITH AGILITY, RESILIENCE AND SECURITY
This module focuses on Good Governance models, and governance with agility, resilience, and security.
MODULE 5: INFORMATION GOVERNANCE, QI IN THE ERA OF INDUSTRY 4.0 & DIGITAL TRANSFORMATION
This module builds awareness of the Fourth Industrial Revolution (also known as Industry 4.0) technologies, and their impact on Quality Infrastructure organizations.
MODULE 6: TRANSITION ROADMAP & ACTION PLANS
This module is intended for leaders, policymakers and professionals of Quality Infrastructure, to facilitate the creation and implementation of a transition roadmap for Good Governance and Industry 4.0 transformation.
MODULE 7: MOTIVATION & RECOGNITION IN THE CONTEXT OF SUSTAINABILITY STRATEGY & QUALITY INFRASTRUCTURE
This module details the key role of motivation and recognition in the implementation of Good Governance standards and joining sustainability initiatives.