Webinar Registration Link: bit.ly/unidotradewebinar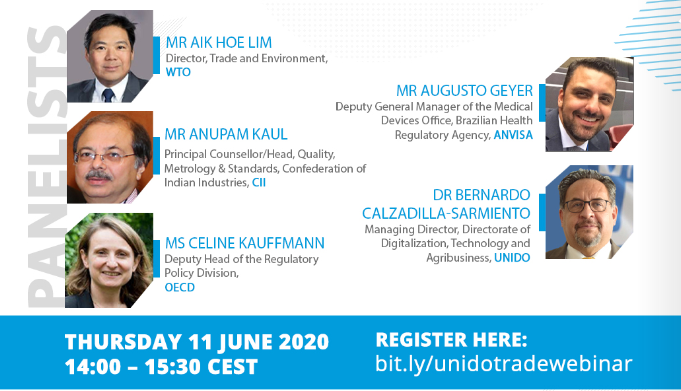 You are cordially invited to attend the upcoming e-panel discussion:
                                                   "Trade, Quality and Safety of Health Products in the Time of COVID-19: What Lessons So Far?"
Speakers:
Mr. Aik Hoe Lim, Director, Trade and Environment Division,

WTO

Mr. Augusto Geyer, Deputy General Manager of the Medical Devices Office, Brazilian Health Regulatory Agency,

ANVISA

Ms. Céline Kauffmann, Deputy Head of the Regulatory Policy Division,

OECD

Mr. Anupam Kaul, Principal Counsellor/Head, Quality, Metrology and Standards,

CII

Dr. Bernar

do Calzadilla-Sarmiento, Managing Director, Directorate of Digitalization, Technology and Agribusiness,

UNID

O
Moderator:
Mr. Juan Pablo Davila, Industrial Development Officer, UNIDO
Context: 
The COVID-19 crisis has exposed the sensitivity and importance of certain value chains in times of crisis, from personal protective equipment (PPEs) to medical devices and medicines (pharmaceuticals). The resilience of these GVCs against external disruptions require flexibility to interchange suppliers and inputs when needed without compromising the quality, safety, suitability, stability and reliability of the product and its inputs.
Achieving this implies a wider acceptance of requirements or standards for products and processes. Equally important, conformity assessment procedures, which give confidence that the specified requirements of the traded goods and/or services have been fulfilled, play a significant role in ensuring that products used to fight COVID-19 do not trigger other unintentional economic, social or environmental problems, without unduly delaying access to essential health products. Regulatory cooperation, and the use of international standards, can make important contributions in this regard. A group of distinguished experts will discuss along these lines the lessons so far from their perspective.
Date & Time: Thursday, 11 June 2020, 14:00 to 15:30 CEST
Webinar Registration Link: bit.ly/unidotradewebinar
Please feel free to extend this invitation to your project stakeholders as you deem appropriate.