to
Registration link: https://docs.google.com/forms/d/e/1FAIpQLSeSubk8CzdyllGo88kTYkxSXsb6WYLE-13NCVij_a43nlPSsw/viewform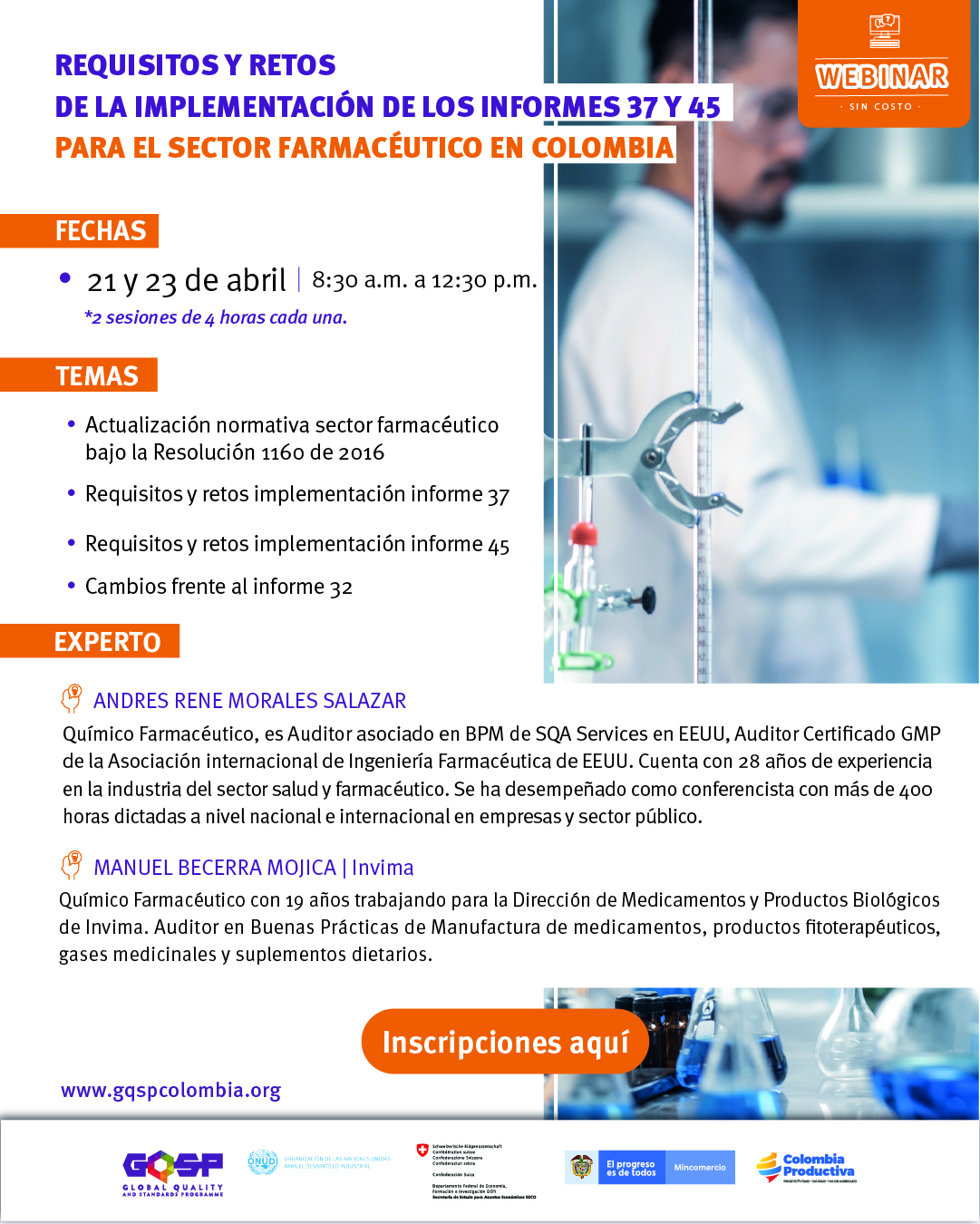 Due to the constant changes in manufacturing, quality control and storage technologies for medicines, and in order to ensure the safety, efficacy and security of them over time, WHO updates regularly the standards related to Good Manufacturing Practices in pharmaceutical sector. Based on these updates, the National Institute for Drug and Food Surveillance (INVIMA) has been also updating the related Colombian legislation under resolution 1160 of 2016.
During this webinar, the requirements and challenges of implementing the technical reports 37 and 45 for the pharmaceutical sector in Colombia will be presented as well as the changes compared to report 32. The webinar will also explore subsequent technical reports that are important at the international level. In this way, the participants will know which elements they must update in their quality management systems to be up to date in regulatory compliance.
This webinar is targeted to all SMEs in the pharmaceutical industry comprising laboratories that fabricate medicaments. The webinar will be taught by Mr. Morales Salazar, Pharmaceutical Chemist and Associated Auditor in GMP of SQA Services in EEUU and by Mr. Becerra Mojica, Pharmaceutical Chemist with 19 years of working experience at the Directorate of Medicines and Biological Products of the National Institute for Drug and Food Surveillance in Colombia-INVIMA.
The webinar will be held in two sessions of four hours each, on the 21 and 23 of April 2020 from 08:30 to 12:30 (COT). Both sessions will be held in Spanish. This webinar has no cost but registration is required under the following link: https://docs.google.com/forms/d/e/1FAIpQLSeSubk8CzdyllGo88kTYkxSXsb6WYLE-13NCVij_a43nlPSsw/viewform